Unpaid debts aren't simply the 'cost of doing business'. In fact, many dental practices lose far more than they should annually, because they simply say they can't collect on past due dental accounts receivable, but this isn't the case. Many practices decide to forego even contacting patients, which means a great amount of lost profits annually. Today, your practice simply can't afford this, and has to find a way to reach out to patients with past due accounts.
Dental Accounts Receivable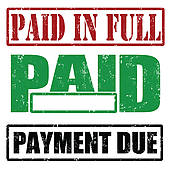 So, what can be done to deal with the dental account receivable bills which aren't being paid? There are a few things which can be done, and different tactics your office can take, in trying to collect on these accounts. Don't simply write these bills off, rather, consider these approaches to try to collect on the dental accounts receivable which patients owe to your practice.
Create and Follow Through With A Dental Accounts Receivable Policy:
When are bills sent? 60 days or 90 days after the procedure? How long do you wait before calling a patient who hasn't paid? Many offices don't have concrete rules in place, and simply "play it by ear." This is a mistake, and it is resulting in far too many patient bills going into collections and never being paid. Rather, your office has to create a policy for each and every account. If a patient hasn't paid after XX amount of days, call them. If they haven't responded to an email or phone calls, find other approaches to reach them. Your entire staff has to understand the policy, and billing practices. Not only will this help to reduce unpaid amounts, it will also help your practice find patients which are simply trying to avoid paying their bills.
Upfront Discounts:
A way to collect, and avoid even having to bill patients, is to offer them a discount if they pay for the entire cost of the procedure up front. But, many patients can't afford the high cost procedures, and in these cases, your office can provide a discount for bills which are paid in full up front. This is a sure fire way to guarantee you are going to collect on the entire bill; and, offering this 3 to 5% discount for a complete payment up front, allows patients to focus on the work, rather than on how they are going to pay off the bill over time. It will reduce the total amount of dental accounts receivable in the future, and it is a simple way to guarantee bills don't end up in collections after a few months of not being able to reach a patient.
Designate Personnel:
Not everyone can handle the task of making calls and trying to collect past due dental accounts receivable. So, have a staff member be the designated person to make these calls, have a policy in place of when they have to call, and how they should reach out to the patients. Further, many offices simply claim they are "too busy" to have a staff member make the calls. If there is a designated person in place to do the work, there is no excuse for not making these calls, and attempting to collect on the dental accounts receivable which are past due.
Dental Accounts Receivable
Your office simply can't afford to lose out on so many patient payments which are placed in past due accounts. Try these methods to help reduce the amount of bills which aren't paid, and help increase total revenues to your practice, which were previously written off as lost patient bills.
Work With Us Today:
You can't control the unpaid accounts, the fact that some patients will ignore your calls, and the fact that some dental accounts receivable are never going to be collected on. With this said, we can help reduce the total amount of accounts which aren't collected, and help your office collect on past due dental accounts receivable. Simply fill out this short form below, let us know what issues your office is dealing with, how you have tried to reach payments, and what type of accounts are passed due. From there, we will get in touch with you, and let you know how we can help you collect on past due accounts, and reduce the total amount of unpaid debts in the future.
Ready to find the right dental accounts receivable collection agency?
Save time, money and aggravation by hiring a professional who can help you collect some (or all) of your outstanding revenue.
Click the button below and get a free dental accounts receivable collection agency quote today. After all, you can keep doing what you're doing (and hope for a different result), or you can work with a collection agency that can help you recover what's rightfully yours.