As a dental practice, you have probably dealt with past due, overdue, and uncollected accounts in the past. How can you avoid this? There is no way to avoid it entirely, some patients simply will never pay. But, offering more than one option to pay, and giving patients several dental bill payment options, makes it easier to otherwise collect on bills patients didn't make in the past.
Dental Bill Payment Options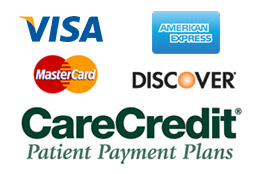 Cash
There is the obvious advantage to cash that you receive it when the patient has the work done. There is no risk of non-payment, as you collect in full the day of the procedure. No trying to track down non-payers. With this also comes the flaw that most practices that only accept cash are typically dealing with insured patients only. So, discounted rates are typically given to patients, and you can't charge as much for procedures. Additionally, if a patient simply doesn't have cash on the date of their appointment, they are more likely to cancel than offices that accept other forms of payment as well.
Credit
What is the alternative to cash only payment options? To provide additional dental bill payment options. This can include special promotions, which include zero down finance, and interest free periods. Not only does this give patients an incentive to have additional work done, which means higher collection amounts for your practice, it also makes it easier for patients to pay the bill off over time. And, with zero down and interest free periods, patients typically try to pay the bill in full by the promotional period's end date, to avoid interest charges.
Mixed payment (cash and credit) is another dental bill payment options to consider, for lower risk patients. Those who have stable work history, great credit, and have regularly paid their bills in the past. This allows your dental practice to at least collect a portion of the payment up front on the day of the procedure in cash, and the additional amount will be paid off over the coming months. Make sure you know the patient's age and job status, repayment history in the past, and ability to pay accounts with other creditors. Doing a small credit check will prove beneficial to dental offices that offer this payment option, as it gives you a better idea as to which payments can, and which ones can't, make payments on account.
Payment Options
Patients are not only more likely to want to deal with an office that provides more than one dental bill payment options, but will also see the fairness in the dentist's practice. Further, if patients have regularly paid their bills in the past, on time, your office can provide them with more flexible repayment terms, or additional promotions to repay their bills. Doing so not only ensures the bill will be paid in full, but it is also going to ensure you keep the patients happy, so that they do not leave to a competitor's practice for future work they need to have done.
Still having problems Collecting?
Regardless of the different dental bill payment options you offer, there is no way to entirely eliminate the unpaid, past due accounts. It is a regular part of this type of work, and some patients are simply going to do all they can to avoid paying a bill. This is where we can help you and your practice. The right dental collection agencies will not only step in to go after the non-paying patient, but will work with your office to learn the best methods to reach these patients, and to find out which methods you have tried to collect from them in the past.
Some patients do not have the means to pay, while others simply do all they can to avoid making payments on past due accounts. Whether patients are ignoring your calls, dodging your emails, or simply won't respond to mail and collection bill notices, allow us to help you collect on these past due accounts.
Dental Bill Payment Options
Ready to find the right dental bill payment options collection agency?
Save time, money and aggravation by hiring a professional who can help you collect some (or all) of your outstanding revenue.
Click the button below and get a free dental bill payment options collection agency quote today. After all, you can keep doing what you're doing (and hope for a different result), or you can work with a collection agency that can help you recover what's rightfully yours.